Interview with Åshild Kanstad Johnsen
Åshild is a frequent collaborator of Pamflett, mainly by making workshops for kids with the risograph. In Norway we have a culture program for public schools made by artists called The Culture Rucksack (Den Kulturelle Skolesekken), which has been our main collaborative project since 2018, and have made risoprints with around 500 kids between 6–10 years old.
At Tokyo Art Book Fair we have invited Åshild to make a riso-kids workshop with Pamflett, in collaboration with Hand Saw Press and RISO Kagaku Inc. in Tokyo.
Visit tokyoartbookfair.com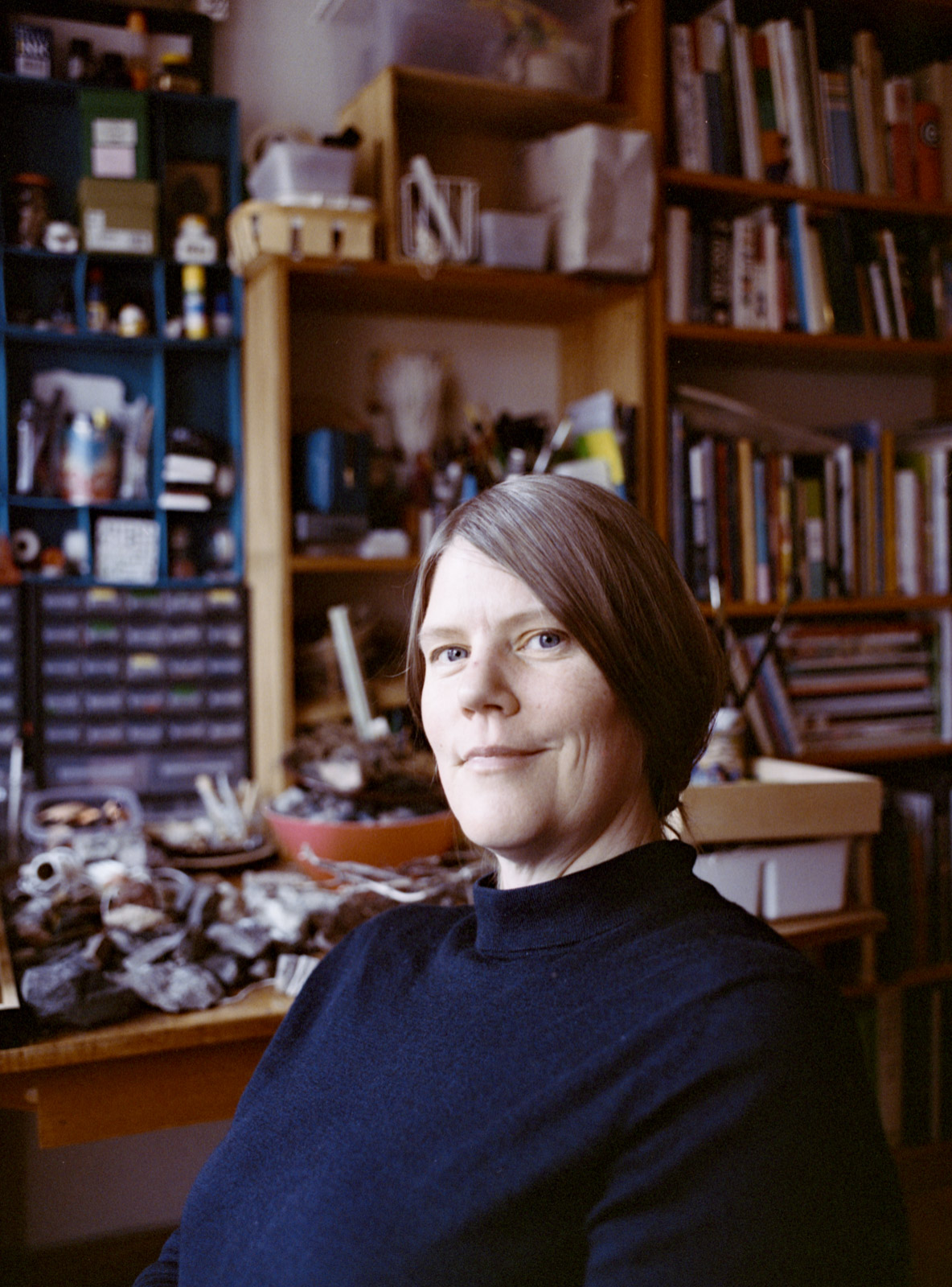 Hei Åshild! Tell us a little who you are and what you do? 
I'm a 43 year old female illustrator and author of children's books situated in Bergen, a city surrounded by mountains on the west coast of Norway.
I've lived my whole life here, and I even took my Master degree in Visual Communication at the Art Academy in Bergen.
I was an active child, restless, but when I drew, or someone told me a good story, I was calm for hours. When I figured I could draw out stories, it made the direction in my life.
I like to work on narratives that are linear. And I have developed a very distinct black outline way of drawing. When I look at Hokusai's drawings of everyday life or his world encyclopedia, that hits a nerve in me. The style and the humor, and the rich details. I just want to sit down and draw for myself. The black outline is magic to me.
But I also love to draw in a more meditative way. With ink and water colors. I put on music and work with rhythm and lines.
The last five years I've done risograph print workshops together with Anki at Pamflett. Where we are teaching children about forms and shapes, which has also sort of opened up for our own creativity as well. For me, I've learnt to work more with graphic shapes and bigger shapes. And I sometimes integrate it in my work, this silhouette/graphic way of working out backgrounds.
My work is very varied. I make my own books and I've worked with illustrations for museum exhibitions. I've created mascots and character designs. And sometimes other creative collaborative projects.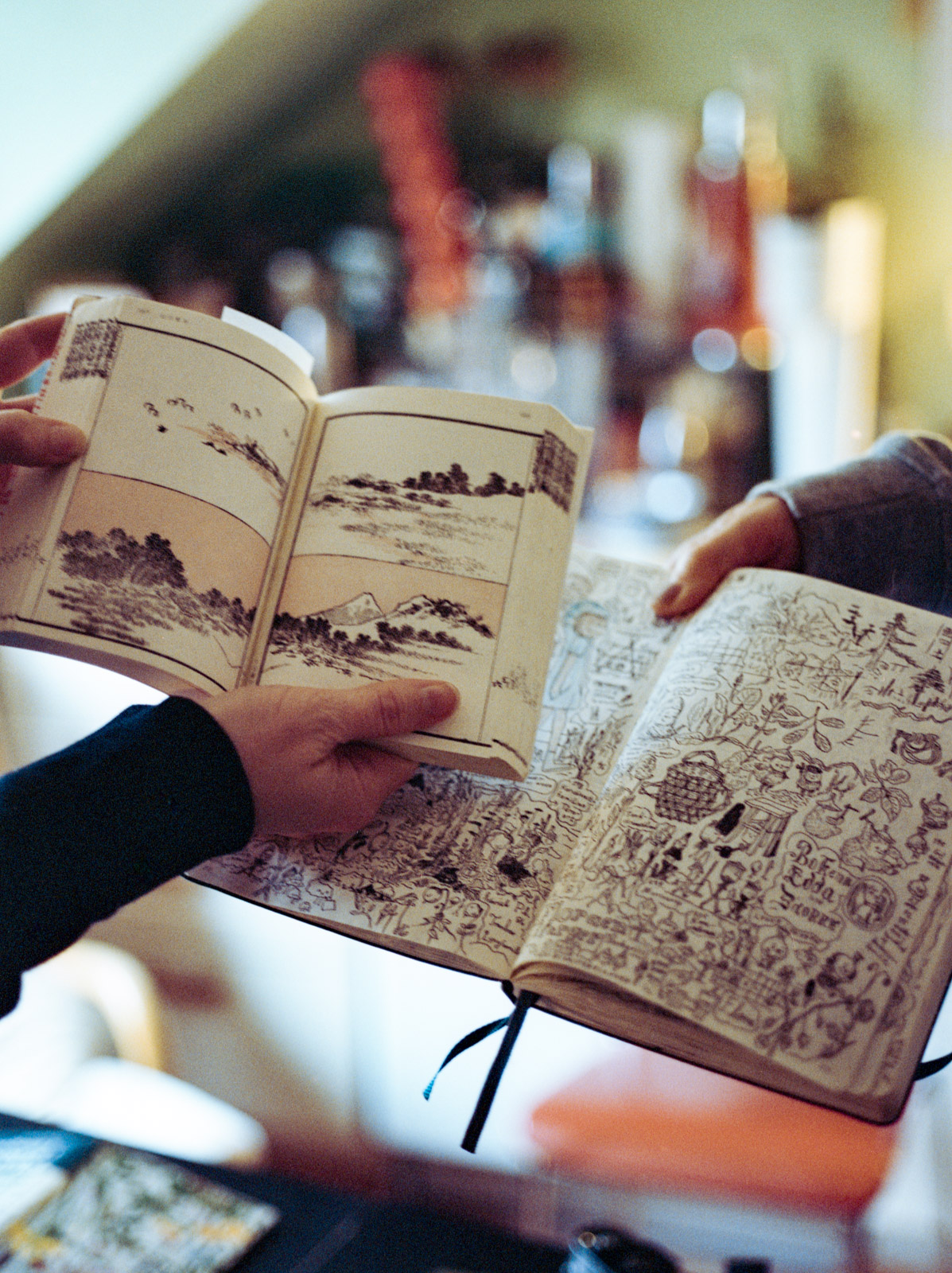 What is your relationship with publishing? And what does it mean to you? 
My relationship with publishing is mainly from drawing out and writing children's books. It's a strict discipline, and you work closely with an editor from the publishing house. I write a lot, and I draw a lot, so working on children's books has trained me in being precise and clear. It's a good thing, but it can also feel too strict sometimes.
This is why I'm attracted to the more free world of artists' books and fanzines. And I want to spend more time in this world, trying out new forms of communicating/expressing myself.
Your work is often client based, but could you also tell a little about what kind of artistic projects you do? 
I paint with ink. I bought this ink set in one of those airport gift shops one time in Shanghai. With dry ink you mix it out with water in a bowl. I love the whole process of mixing out the dry ink in water. The whole ritual is meditating in itself. Also it's satisfying to see how the ink gets gradually blacker.
And I paint with watercolors, just filling out the paper, it's all just like... composition training. And spacing out.
And I've also worked with just a spoon and coffee, dragging the coffee out on the paper in random shapes. This is very much art by accident. It's also a nice way to get out of my own strict head. I may not seem like a person who has strict ideas of how things should be like, but I do.
I also collect stones and leaves and other things from nature, and sort them out on tables and floors. It's a way of organizing my head, and getting a sense of rhythm in life.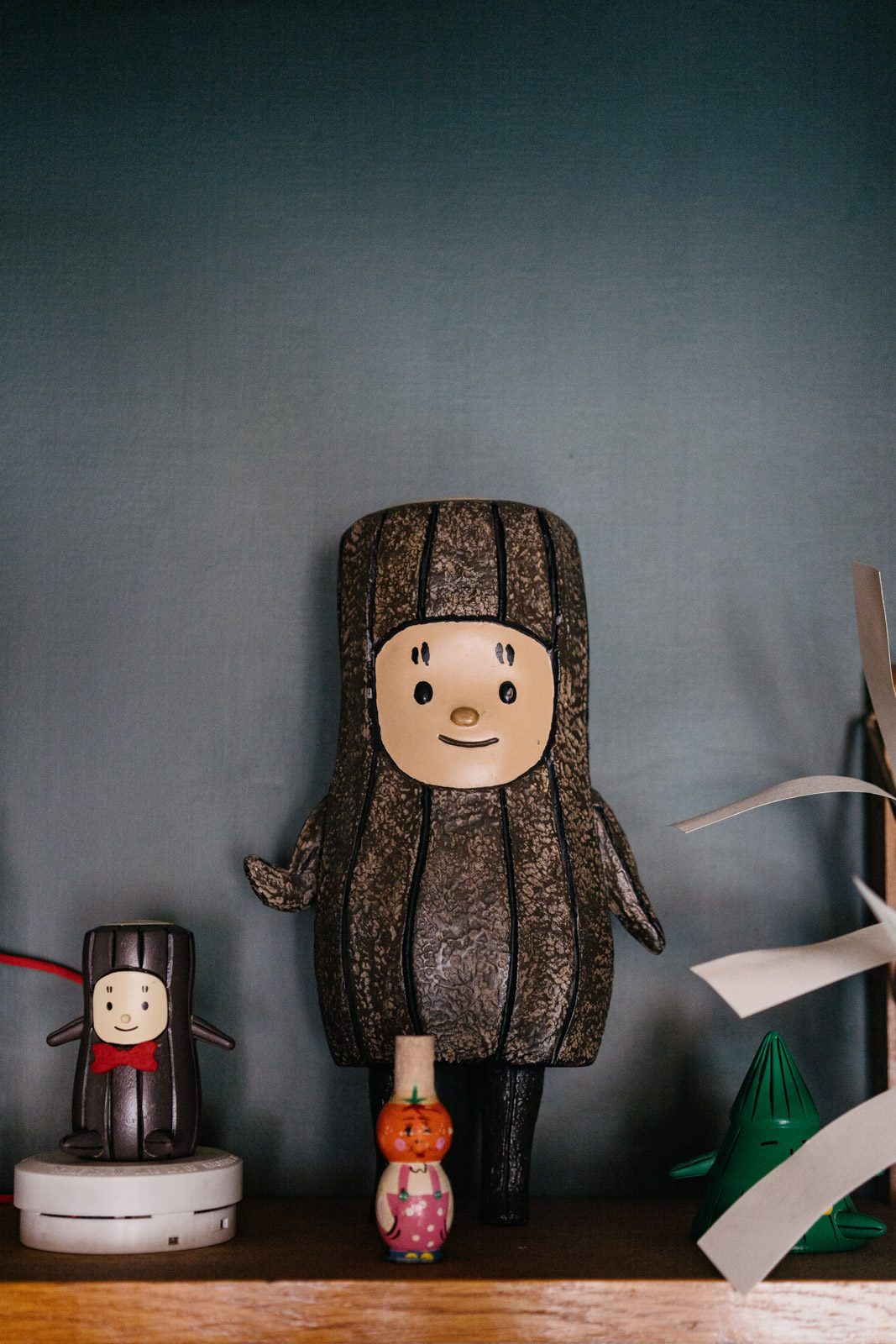 Do you have a specific art project you are working on right now? 
Yes, an interactive music theater play called Dans La Forêt, and it will be premiered at a children's music festival called Rainy Days in Luxembourg the 17th of november. I'm now in the process of developing, creating and writing out a story and drawing the visuals in close collaboration with artists, composers and musicians from Norway, USA and Luxembourg. It's a very ambitious play, and it's a lot of communication between the creative parties, but I think it makes the visual more connected to the sound and music in working this way.
You are participating at Tokyo Art Book Fair as one of Pamflett's frequent collaborators, but you also have another connection to Japan, could you tell us a little bit about that?
I got signed with TMS Entertainment in Japan in 2011 (they do Anpanman animation and merch and so much more). They developed short animations and merch from my book character KUBBE, a little tree log who likes to collect and gather things, and engage people around him in all kinds of projects.
I've visited Japan and met with the people at TMS several times during the years. They've also come to Norway on several occasions. I love the people I work with in Japan, but it takes time for me to get into the world of contracts and licensees. I'm very much an artist, with an artists' brain and business is not something they teach at art schools. It has taken me a long time to figure out how to deal with legal rights. But as I'm getting older, I'm figuring out how to balance those things now. Slowly. 
Also, Tokyo Metropolitan Art Museum (TOBI) made an exhibition of my first KUBBE book (KUBBE MAKES A MUSEUM) in 2015, and the exhibition was called KUBBE MAKES AN ART MUSEUM. At that time I worked closely with curator Sawako and artist Hibino. This was part of a bigger museum project called UENO START, where they wanted people in general to get a closer relationship with the museum, not only their established audience.
I understand the museum world more now after these experiences. But I've also experienced so many interesting cultural things with the people working in TMS, like food, places and travel. I've got to experience so much more than just being a tourist in Japan because of that.
But this time around I will get to experience being in Japan without the main focus being on my business. This makes me very excited, to be able to work more creatively while being there, and being a part of a bigger group and project.
What I love about Japan is all the random small streets, and all the small things you can find in stores. Office equipment, paper and packaging and their mascots, character design, illustration and design. It's so rich and detailed. I will make sure to sit down and illustrate more of Japan this time in my sketchbooks. 
Sketchbooking is my main thing in life. To fill up all my sketchbooks is so much fun! And such a satisfactory feeling!