Self-publishing workshop with
risograph
Pamflett is open to artists who want to make your own publications. If you are new to risograph, we will help you get started! Contact us with your project:
hei@pamflett.no
We can also print smaller projects on demand, like flyers and posters!
We are not a full-service printer, so please give us files and info at least
1 week
before you need it!
NEW MAY 2022:
Our MZ risograph is out of order, which means we have less colors available at the moment.

What is RISO?

The digital duplicator, also called risograph, from the japanese company
RISO
, is a unique "copy machine". It combines the high speed of a copier and a silk screen like result. Printing one by one layer of color, with a color library ranging from flourescent to metallics.
Originally an office machine, and not really intended for the art market, the machine has quirks like challenging registration, smudging and not being able to print on anything other than bulky uncoated paper.
Greener prints

The Risograph is also environmentally friendly with ink based on
soy
waste material from rice farming and using little power compared to other similar printers, and where digital laser print is melted plastic. That is also why your prints look shiny even on matt paper. We print mostly on Munken papers, produced in Sweden at one of the worlds most sustainable paper factories.
Colors at Pamflett

DOWNLOAD SWATCHES HERE!

(Compatible with Adobe software)

︎

#000000 BLACK (A3)

︎

#3255A4

MEDIUM BLUE (A3)

︎

#00A95C

GREEN

(

A3 + A4)

︎

#FFB511

SUNFLOWER YELLOW (A3)

︎

#FF665E

RED (A4)

︎

#FF4C65

FLUORESCENT RED (A3)

︎

#0078BF

BLUE (A4)

Out of order (from May 2022):

︎

#D2515E

MARINE RED

︎

#FF48B0

FLOURESCENT PINK

︎

#765BA7

PURPLE

︎

#88898A

LIGHT GREY

︎

#5EC8E5

AQUA

︎

#0078BF

BLUE (A3)

︎

#00838A

TEAL

︎

#44D62C

FLOURESCENT GREEN

︎

#FFE800

YELLOW

︎

#FF665E

RED (A3)
Make publications

We do not provide the full-service of assembling books, but our workshop is free to use for everyone that wants to work on their publication and we are here to help! We have the essentials: paper giljotin, staples in different colors and cutting boards.
Workshop

If you are a group of 3–6 people that want to learn to print with riso, please send us a request and we will make a workshop based on what you want to know or try out with the risograph!
Paper

The risograph can only print on uncoated paper, between 80–250gsm. We have a selection of different papers available, but you are also welcome to bring your own – as long as its uncoated and between the limits of paper weight. Recycled paper can have trouble absorbing the ink because it might contain fragments of plastic.
We usually stock paper from Munken (usually Pure and Lynx)
Machines at Pamflett


At Pamflett we got 2 Riso duplicators: 2-color A3 format and 1-color B4 format! Both machine can print on A3 paper, but the print area is A3 and B4. We also have screen print maker Riso Gocco Pro 100 that make screen in approx 30 x 70 cm.

We also have an electric stapler, a glue binder and a folding machine!



RISO MZ770E - 2-COLOR RISOGRAPH

Our oldest champ. This can print two colors in "one go", with its two drums. The machine itself is from 2005, so it comes with a few extra quirks. Print area is A3, and biggest paper size is SRA3. This machine has the following colors:
︎
︎
︎
︎
︎
︎
︎
︎
︎
︎
︎
RISO CV3230 - 1-COLOR RISOGRAPH


A more "mobile" risograph. This can print one color in "one go". The machine is fairly new, and came to Pamflett in the fall of 2019. Print area is B4, and biggest paper size is A3. This machine have the following colors:
︎
︎
︎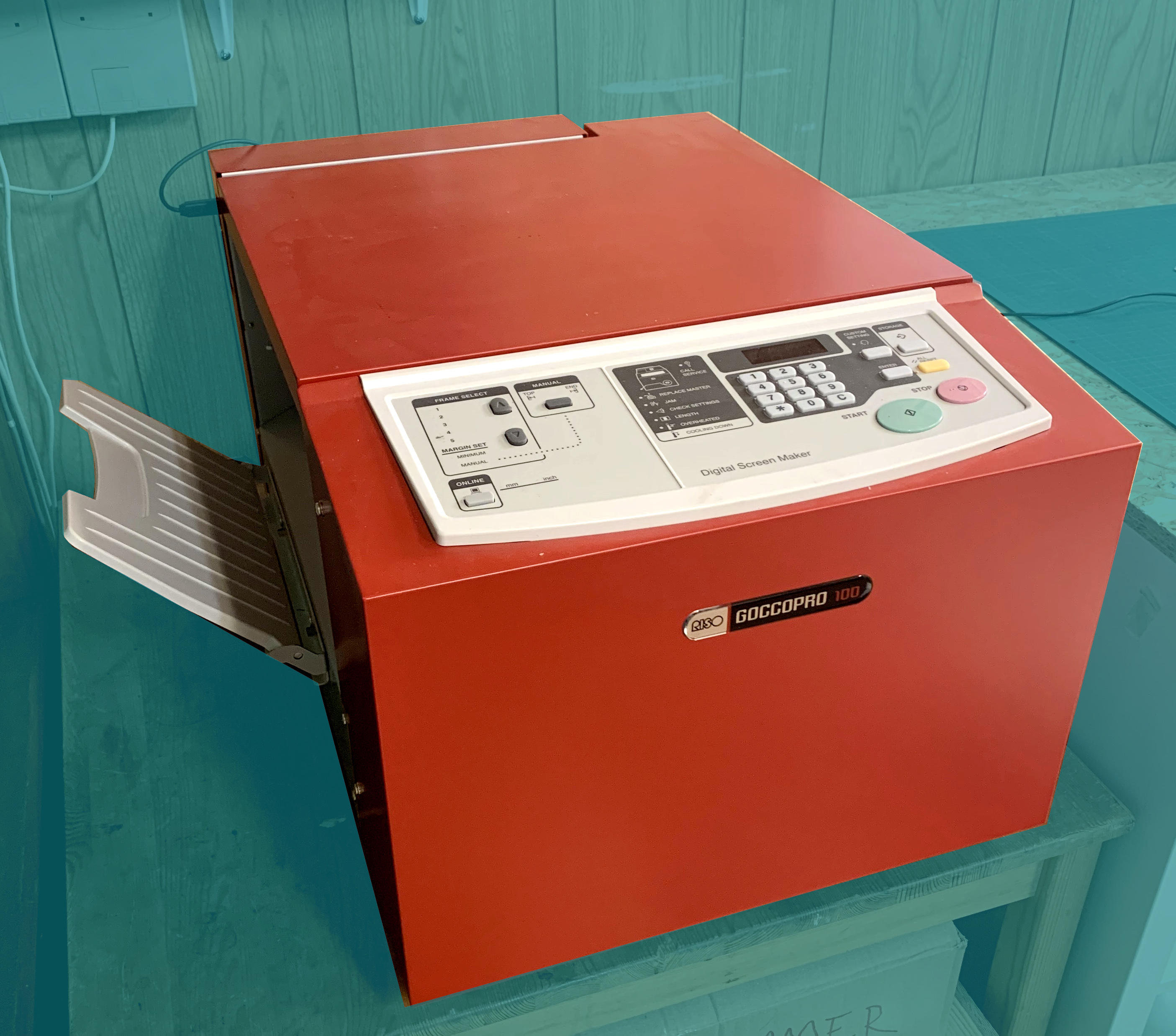 RISO GOCCO PRO - DIGITAL SCREEN PRINT MAKER

Print out stencils for screen printing with the Gocco! Maximum size is 30 x 70, but no chemicals or waiting time.




RAPID ELECTRIC STAPLER


Bind you books/zines superfast with the electric stapler!




FOLDING MACHINE


No more endless hours folding by hand!